Cunningham Wedding – Anse Chastanet St Lucia
Our wedding on the Anse Mamin beach was everything that we hoped it would be—beautiful, serene, relaxed, and intimate. Standing together on the secluded beach, we felt like we were the only people on the island. The formal touches—walking down the aisle, the champagne toast, cutting the wedding cake—added a sense of tradition and occasion. After the ceremony and pictures, we enjoyed a private, torch-lit dinner on the water's edge. Charlene, the wedding coordinator, and the staff at the Anse Chastanet gave us an exciting, romantic, and joyous day that we will never forget.
I will admit that I was a little nervous when we arrived. Having made all of the arrangements over email, I was concerned that something would fall through the cracks. But Charlenewas incredibly organized. She met with us shortly after we arrived and confirmed all of the details. She had all of our communications on hand and knew exactly what we wanted. The one detail we could not decide on was the cake, so she arranged for the pastry chef to make two samples. The cinnamon cake we selected was deliciously perfect, and they sent it up to our room after the ceremony so that we could enjoy it for the rest of our stay.
On the second day, Charlene personally walked us through the schedule for our wedding day, from the spa where we would have our morning massages, onto the boat to the beach where we would have the ceremony, and through the plantation where we would have part of our wedding photo shoot. So that we could relax and enjoy every moment of our "weddeymoon," Charlene made an itinerary for not only our wedding day but also all of the activities we had planned during our stay, and she even booked the activities and made our dinner reservations. I can't recall how many times we looked at those itineraries—they really came in handy. All we had to do was relax and enjoy every moment.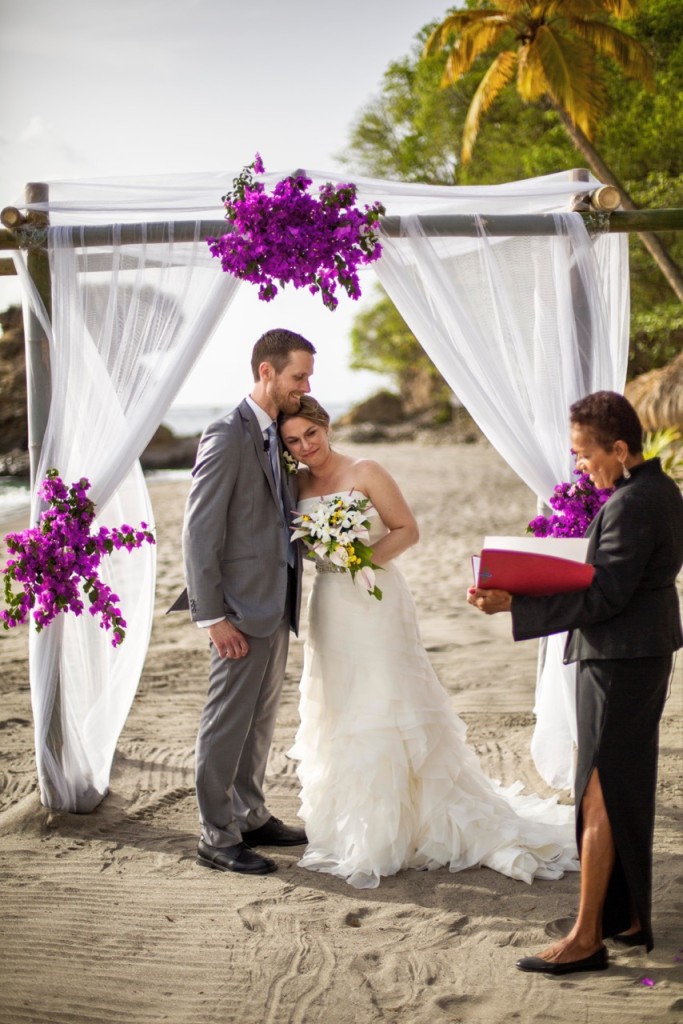 Because we were eloping, I got it in my head that I would do my own makeup, and I hadn't even yet decided on a hairstyle before we arrived. And although I had never gotten into my wedding dress alone, I had made no plans as to how I would get it on for the big day. It was not until I arrived that I realized getting ready for your wedding is not a one-woman show! But Charlene and Mary (the spa manager) made sure I had no stress. They let me bring all of my stuff to the spa and take over one of the rooms. They worked in an emergency manicure after a couple of nails broke. Mary had great ideas for my hair, and after helping me put on my dress, she used a crochet hook to fasten all 20 buttons. Both Mary and Charlene were on hand to offer make-up tips and help me with the final touches. Because of them, I was relaxed, beautiful,and confident (and buttoned and zipped) on my wedding day.
Since returning home, we have, of course, been sharing our photos with friends, family, colleagues, and even some strangers. Everyone (including us) is in awe of our amazing wedding pictures. As you can see, the island provides so many spectacular opportunities to celebrate the moment. We had some very specific ideas about the pictures that we wanted, and the photographer knew exactly where and when to get the just-right shot. We could not be happier with how he captured the day. 
Because of Charlene's talentand the dedication of the resort's staff—housekeeping, the chefs and waiters, the photographer and videographer, the boat captain, the witnesses, and many, many more—our wedding felt like a week-long celebration. We are already making plans to return for our anniversary.
Mr. and Mrs. Cunningham
Room 6B